<! Bread Crumbs -->
Lori and Bill Unwind in Big Sur
November 2005
---
Inspired by our friend Hawk, I treated Lori to a surprise getaway as a belated birthday present from November 11-14. I had hoped to have the time to drive a little north, then a little west, and then a little east to utterly confuse Lori, but we were running a little late so the best I could do was to drive down 101 and delay the turn to the west as long as possible. I also threw in a bit of a detour in Monterey, but Lori wasn't fooled.
She knew we were headed to Big Sur.
She thought I was trying to pull another stunt to throw her off the scent when I pulled into the Post Ranch Inn, but when the woman at the gate said, "Hello, Mr. Wohler," and "Happy birthday, Lori," Lori knew it was for real.
If you've read any of the reviews, you're ready for the friendly staff to throw your bags into a Lexus hybrid SUV and take you and your stuff to your room. We passed by the single room Ocean units to our Coastal unit. Each of the 30 rooms has been given the name of family or friends of the Posts (who have been ranching here for 150 years) and ours was named Torre after Billy Post's grandmother.
As you can tell by the photos, the designers have done well at making the buildings blend in with their surroundings.
Amenities include the Sierra Mar restaurant which served us excellent meals (and has one of the most extensive wine lists around), a basking pool heated to 104 degrees, hiking trails, and peace and quiet to reinvigorate the soul.
---
Lori and I took their nature walk Saturday morning, led by Billy Post, the great-grandson of the rancher that homesteaded this parcel back around 1850. Billy identified the various grasses on the property, as only a rancher could do. He was also very knowledgeable with the other flora and fauna too.
For example, he pointed out a family ring or fairy ring of redwoods. Originally, there was a single patriarch which gave rise to other redwoods from its burl after it was cut, burned, or just died of old age.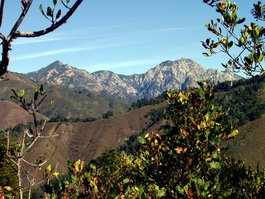 The mountains of the Ventana Wilderness
One of these fairy rings contained a tree whose bark was twisted like a barber pole. This does not grow naturally, he said, but rather the young tree was twisted by the Indians that lived here hundreds of years ago. Why they did this, he did not know. Perhaps they did this to identify meeting or holy places. I could not find a reference, but there appears to be a similar tree in the Mountain Home State Forest called the Oliver Twist Tree.
Finally, we had a nice view of the Ventana Wilderness.
Before the walk, the 86-year-old Bill showed the 43-year-old Bill a new trick on his off-road Segway.
---
That afternoon, we took a hike in the Andrew Molera State Park.
---
That evening, the fireman/astroner James took us on a tour of the heavens with the hotel's 12-inch telescope. Despite a nearly full moon, the telescope was still good enough to pull in dim objects such as the Dumbbell Nebula (M27) and the Spiral Galaxy (M77). We're awfully thankful to James for staying two hours past his scheduled hour.
---
Here are some shots of the room they call Torre.
One of the many pieces of wonderful Greg Hawthorne art about the property
---